Language of the Program: German
120 CP in 4 semesters, which corresponds to a standard period of study of 2 years.
Possibility to choose one of the following specialisations:

Sustainable Use of Resources
Clean Energy and Process Engineering
Future Automotive Systems
Digital based Production and Robotics

or general mechanical engineering
Wide range of electives (62 – 68 CP)
Compulsory elective area Digitalisation
Research and application-oriented projects
Insight into industry practice: lecturers and cooperating professorships from industry
A look beyond the horizon in the Studium Generale (6 – 12 CP)
Possibility of external project work in the industry (6 CP)
6-month masters thesis
Various opportunities to study abroad
The degree programme Maschinenbau, in which graduates are awarded the academic degree "Master of Science (M.Sc.)", builds on the bachelor's programme "Maschinenbau – Sustainable Engineering".
Here you have the option of choosing one of four specialisations (Sustainable Use of Resources, Clean Energy and Process Engineering, Future Automotive Systems and Digital-based Production and Robotics), which will be shown on your transcript. Alternatively, you can also choose to keep all options open by selecting the "General Mechanical Engineering" specialisation.
No matter how you decide: There are numerous modules available to you related to the fields of digitalised production, automotive engineering, energy technology, aerospace, and many others!
The programme is rounded off by events in which you have to become active yourself. These include tutorials and Advanced Design Projects, in which you gain insight into cutting-edge research topics, work on challenging projects and finally present them. You can find an overview of current project topics here .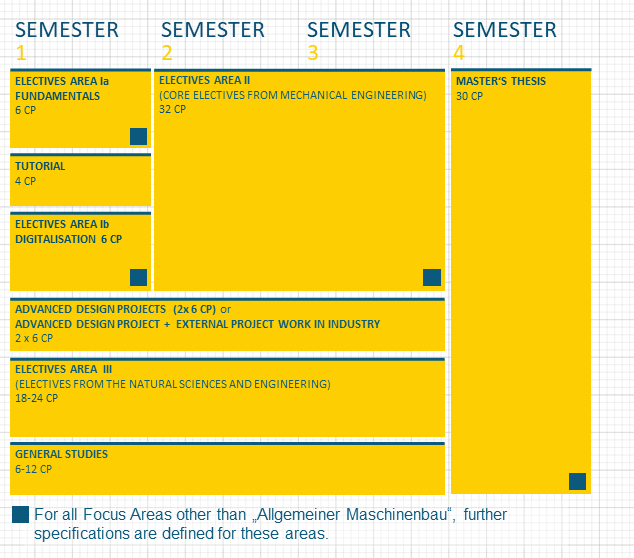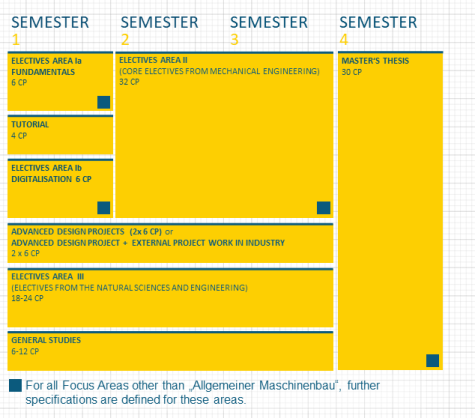 The Master's programme in Mechanical Engineering is designed for four semesters. In the first three semesters, courses and projects are completed, and the fourth semester is dedicated solely to the Master's thesis.
In four different elective subject areas, you can tailor your studies to your interests by choosing modules.
Compulsory elective area I
In the "Elective Compulsory Area Ia – Fundamentals", three exciting modules await you:
Machine Dynamics
Sustainable Systems Design
Transport Phenomena
In the "Elective Compulsory Area Ib – Digitalisation" you can also decide whether you want to take just one or more of the three modules:
Digitalisation in Production
Machine Learning Applications
Smart Products, Engineering & Services
For the specialisations, there are some compulsory subjects in these areas. More detailed information can be found in the programme regulations and the module handbook, which you can find in the download area .
Compulsory elective area II
In the 60 core courses from mechanical engineering, our subject areas offer you a wide variety of basic subjects, method-mediating and application-oriented courses. Again, you will find modules dedicated to your chosen specialisations, so that you acquire the competences relevant to you.
Compulsory Electives III
In the approx. 100 electives from the natural sciences and engineering elective area, you can deepen and broaden your specialist knowledge even further. The involvement of lecturers from industry also ensures practical relevance. There are recommendations for the specialisations with regard to the options, but no specifications.
General Studies
In the Studium Generale you have the opportunity to look beyond your own nose and choose courses from non-technical subject areas. The courses range from law and economics to humanities, social sciences and history, as well as language courses. You can find more detailed information about the courses here.
Project courses
In addition to the traditional courses, there are various student-centred forms of teaching. These include the practical mechanical engineering tutorial and a total of two projects. Either two Advanced Design Projects can be taken, in which a small group works on a topic that is as close to industry or research as possible. Alternatively, one ADP and an additional external project in industry can be taken.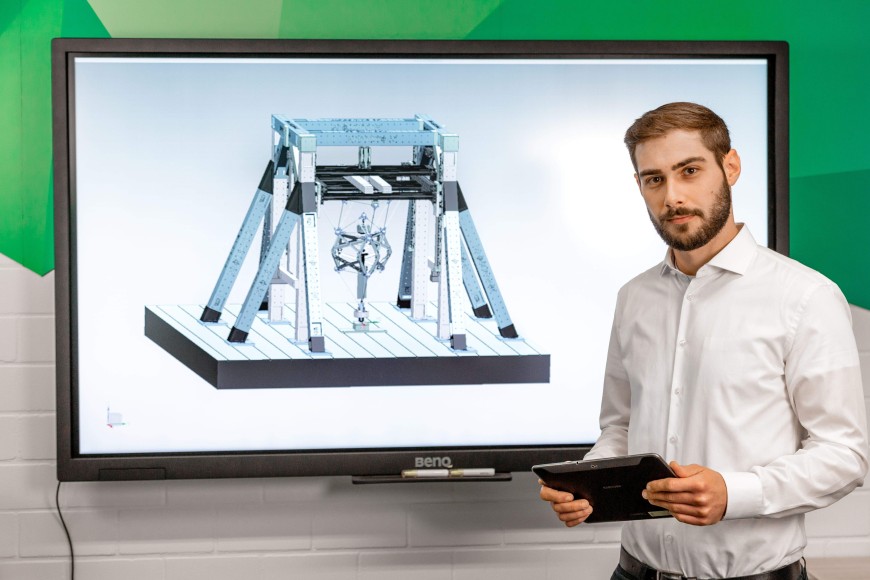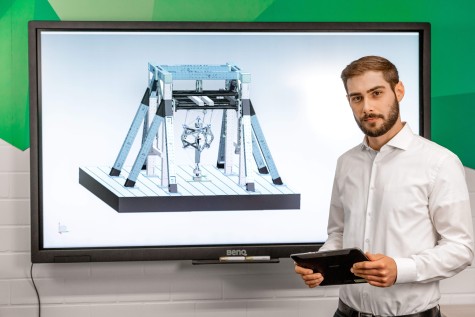 Learning objectives
The learning objectives of the master's programme go significantly beyond those of the bachelor's programme in terms of both quantity and quality. Accordingly, after completing the master's programme you will have achieved the following profile:
You have the ability to expand the boundaries of the subject and to draw connections between new and previous knowledge.
You have been introduced to the role of the creative designer, in which you work to create products, processes or methods that previously did not exist.
You are able to use scientific methods to translate practical problems into a research question for you to solve.
You are able to critically question statements about your subject and to confidently present your own point of view to a review board and laypersons.
You have the skills to present the results of scientific work in a precise and understandable way, both orally and in writing.
You are able to approach complex problems taking into account the relevant technological, economic and ecological criteria.
You can work together with other disciplines, take on problems and recognise which scientific solutions are going to be most effective.
You are able to lead disciplinary and interdisciplinary teams.
You recognise the social challenges and the social consequences of engineering work and to take responsibility.
You understand the business implications of your newly created products, processes or methods and demonstrate entrepreneurial thinking.
You are capable of critically engaging with the relevant intercultural aspects of the global market.
You set yourself demanding, but realistic goals, implement them within a reasonable period of time and reflect on the results and the way in which they were achieved.
You can use your specialised engineering skills together with the digitalisation methods in the fields of fundamentals, products and production in a meaningful combination.
The Department of Mechanical Engineering at the TU Darmstadt has set itself the goal of offering the broadest possible, general and in depth education that allows for independent research and is thus fully qualifying for a later dissertation. The common goal is for Darmstadt graduates to be able to evaluate and sustainably design technical systems.
Currently, the number of master's students is well below that of the bachelor's programme, which allows for more intensive supervision of the students by the teaching staff and fosters personal contacts. Furthermore, the large range of electives result in manageable course sizes.
The admission requirement for the master's programme is a qualified degree from the bachelor's programme "Maschinenbau – Sustainable Engineering" at TU Darmstadt.
A special admission procedure applies to all first-time applicants who are placed in the first semester of this programme and who are not graduates of this bachelor's programme.
Information on the examination regulations, the module handbooks and the admission procedure can be found via the links below